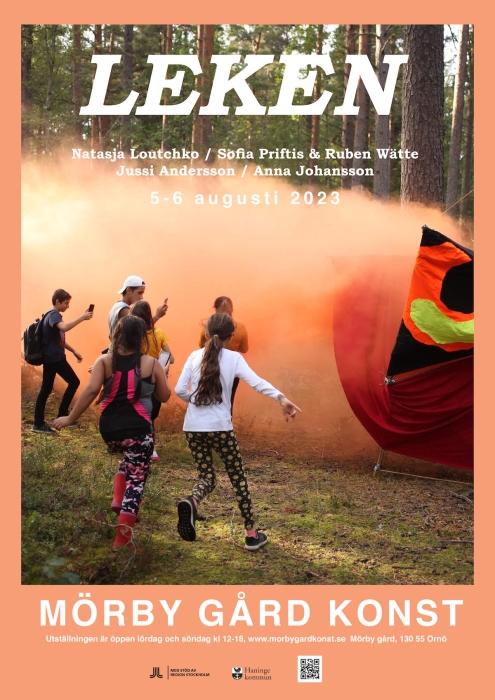 PLAY
Josefin Andersson, Anna Johansson, Natasja Loutchko, Sofia Priftis and Ruben Wätte
August 5-6
12 noon - 6pm
The universe of play is vast. It's a place where we can explore ourselves and enter the joyful, transformative and serious. From the 1970's to the end of the 1990's Scouting camps were organized at Mörby gård on Ornö. Children were given an opportunity to experience affinity through play and practical exercises in the archipelago. This summer's exhibition connects with Mörby gård's history of being a place for fun, challenging adventures and community. You can imagine PLAY as a stage. An encouragement and praise for playfulness' ability as a power of unexpected transformation. Two quotes by the American science fiction and fantasy writer Ursula K. Le Guin have been a source of inspiration while working with the exhibition. Firstly she has in a striking way described imagination and make-believe as the core of play, as a force that can transform in unexpected ways with the words:
"My imagination makes me human and makes me a fool; it gives me all the world and exiles me from it."
She has also pointed out that the potential of play is at its greatest when the individual dares to immerse and lose oneself in it:
"To find a new world, maybe you have to have lost one. Maybe you have to be lost. The dance of renewal, the dance that made world, was always danced here at the edge of things, on the brink, on the foggy coast."
Hope to see you at Ornö!
Saturday August 5 there is an opportunity to see Alexandra Larsson Jacobson's exhibition " Över, under och allt omkring" at Haninge konsthall and after that get on a chartered bus that will transport you to Mörby Gård Konst on Ornö to see the exhibition PLAY.
Alexandra Larsson Jacobson will give a tour of her exhibition "Över, under och allt omkring" at Haninge konsthall at 11am. The bus to Ornö will depart from Haninge konsthall at 12 noon. At 6pm the bus will go back from Ornö and drop you off the commuter train station Handen in Haninge. To be sure to get a seat on the bus send an email to: morbygardkonst@gmail.com
The bus is free and departs from Haninge konsthall!
PROGRAM August 5-6:
Ongoing anarchistic workshops during the day with Sofia Priftis and Ruben Wätte
Josefin Andersson "Vuxit ur alla skor, eld"
Anna Johansson's performance Replay. Replay is a choreographic collaboration with the dancer and choreographer Linda Blomqvist.
In the studio: Natasja Loutchko 'happy hard cute play'
Travelling to Ornö
Directions:
https://goo.gl/maps/4vyydpAm2eJxTXDX9
Public transport:
Get the commuter train from Stockholm C to Nynäshamn. Get off at Handen. Take bus 839 to Dalarö (from the bus terminal next to the commuter train station) and get off at Hotellbryggan. Get on the car ferry to Ornö. We can to a certain extent pick people up from the ferry but you will need to email in advance to make sure: morbygardkonst@gmail.com
From Dalarö the ferry leaves at 1pm and back home from Ornö at 6.30pm.
By car:
From Stockholm take road 73 headed for Nynäshamn. After you have passed Handen take the exit to Dalarö. Then drive on Dalarövägen (road number 227) until you reach Dalarö. At the bridge crossing the channel take a right and drive through the community to reach the harbour Hotellbryggan. From there get on the car ferry to Ornö. The ferry arrives at Hässelmara brygga on the northwestern part of Ornö.
NOTE! There is a fee for the ferry and if you go by car you need to make a reservation in advance. You can do that through this link:
http://www.ornosjotrafik.se/